Why The Hoodie?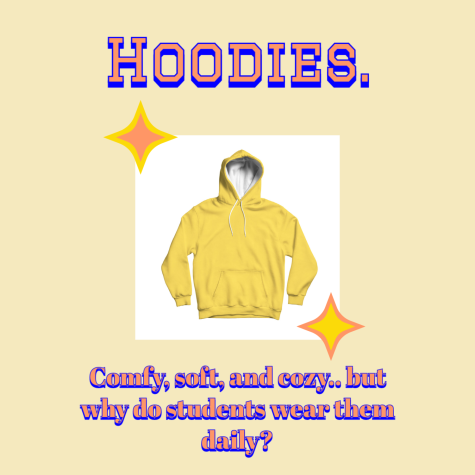 Hoodies are a common type of sweatshirt worn by many high school students year round, and recently, students have been wearing them no matter the temperatures or the occasion, and as a way to benefit their mental health.
These articles of clothing have shown their popularity over many years. Shops stock their shelves with hoodies printed with seasonal designs. Many hoodies are also manufactured during a sports season. We have seen the favoritism towards hoodies as the fashion industry progresses, but presently, they have gained much liking with the teenage/high school community. "I buy hoodies to keep me warm and comfortable, but I still think they can be a fashion statement depending on how you wear it," said Saisree Nagarakanti, a freshman from Chantilly High School. Many parents have been confused as to why suddenly their kids show up wearing a hoodie for a special occasion, or on a 90 degree day. Researchers hypothesize that there is a bigger and more psychological reasoning behind it.
The structure of a hoodie is a thick fabric with baggy sleeves, a hood, and sometimes a big pocket on the bottom middle. Originally hoodies were actually invented in the 1930s by the Knickerbocker Knitting company which eventually became the brand Champion. These garments rose prominently "by the rising popularity of hip hop music" and the edgy/urban look, as said by, Asket, a fashion/clothing brand. The hoodie ended up greatly advancing due to famous sports players wearing them to increase their campaign, and many other celebrities and popular brands manufacturing them as well.
"Even when it's hot out, we still sell a lot of hoodies. Who can resist the snuggly good feeling that only a hoodie can give you?" said Meredith Young, a marketing education teacher at Briar Woods.
     The Mental Health Foundation surveyed kids in the ages of 13-19 and found that 35% of teens are concerned about body image. In school, if a student is struggling with body confidence issues, they will most likely wear clothes that mask their physique, for example, a hoodie. Parents have also found that students wear hoodies to feel comfortable or to have that weighted blanket feel, which supposedly helps with stress and anxiety, as said in an article by Filter Free parents.
"Most of us adults think it's just a fashion choice, especially because it is very convenient to throw on in the busy mornings, and kids don't have to worry about what they look like in it as far as body image goes", said Manish Shah, a Social Science, Global Studies, and Psychology teacher at Briar Woods. Other kids might wear them simply because it's an easy outfit. This comes to say that hoodies give students a comfortable and safe feel that can repeal any tension or anxiety they might have.
With the hoodie in the limelight and the common fluctuation of fashion trends, it is interesting to see how it grew over the years and how people are using it to their advantage with either mental health, or simply just the use of it for the urban and edgy street fashion style. It also stems the question, will these garments of clothing stay as peoples favorites for years to come, or will they be replaced with a new piece of clothing? Well that is for the public to decide on, but for now, the hoodie will most likely remain the #1 favorite amongst high school students.