Fantastic Fiction: Book Review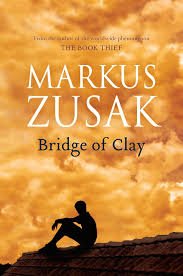 Markus Zusak's novel Bridge of Clay is a stellar work of fiction that interweaves the lives of five boys and their complicated relationship with their father, who suddenly re-enters their lives after disappearing out of the blue. The reader is plunged into the stories of Clay, Henry, Rory, Matthew, and Tommy as they navigate life with the guidance and support of only each other, and with occasionally disastrous, and often hilarious results. 
Published in 2018, and told from the eldest brother's point of view, the book follows Clay as he attempts to bring both himself and his brothers closer to their father. However, due to the father's past, this proves easier said than done. I thought Zusak's writing of sibling interaction was much better than some, if not most authors, and was a realistic characterization for the story. Zusak's decision to integrate several unique pets into the story allowed for the balance of both heavy topics and lighthearted moments. 
While the book is a good read, that's not to say it's without flaws. I found the plot a bit stretched out, and the ending was quite obvious. I would have also liked to hear more about the past of the mother of the five boys. I think she was underused as a character, and could have played more of a role in the story. Furthermore, I found the main love interest in the story a bit underdeveloped and brought in when convenient, and was used for the sake of a plot twist, yet the plot twist didn't have a major impact on the story. I think if Zusak cut some parts of the book that weren't entirely necessary to the story and replaced them with more development of both characters, it would have made for a better read. 
Although it is a relatively thick book, Zusak's writing style is descriptive yet simple, which enabled me to read it in a short period of time. I think this book is great for those interested in realistic fiction and those who have enjoyed Zusak's other books, particularly I Am the Messenger. Bridge of Clay is a wonderful story to pass the time with, and Zusak certainly deserves high praise for this work.