Girls Volleyball: Closing The Season on Top!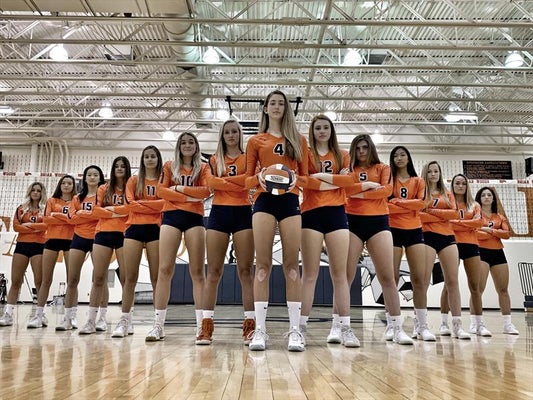 It's the end of the season for volleyball and other fall sports. That means it's time for some closing thoughts; what they could improve on, and what they've accomplished. Coach Riggio, the head coach for the girls varsity volleyball team, just finished his first season strong; especially since he won coach of the year. He said, "It didn't matter that this was my first season as the Head Coach as I knew the girls had the talent and ability to go far." Coach Riggio showed his strength and his capabilities well this season.
The girls varsity volleyball team improved last year's score dramatically, and hope to do even better next year. Riggio said, "State Finals.  We were almost there, made it to the Semi-Finals, and had several opportunities to earn the trip to Richmond. We showed during the season on how a loss can fuel a long win streak." Below is a data table on their improvements from last year:
The girls varsity volleyball team made great improvements on performance and ranking since last year. Their overall record increased from 12-11 to 22-6, their national rank skyrocketed from 2,387th to the 673rd best in the country. This theme of increasing numbers continues with their Virginia rank last year, as 58th out of 339, compared to this year's rank of 18th out of 383. 
This year, they achieved many goals they set had out for, including; placing top four in states, becoming the region 5c champions, and Potomac district champions. They were ranked 8th in the DMV area, and scored 2nd place in the NVVA High School Invitational. 
To accomplish their goal of getting to state finals, Coach Riggio plans to, "Take the lessons learned and apply them next season and be that much stronger." As the volleyball season ends, next year's plans are coming into view, including the JV girls volleyball team. Riggio said that, "There is a lot of great talent on the JV team, their 17-2 record shows that," and, "I will be looking for those players, and not just JV,  who have shown significant growth from this season leading into the first day of tryouts for next season." The volleyball team is great, and they know their strengths. The main thing to work on is the fundamentals. "Sounds basic but mastering the fundamentals is what separates great players and teams from good players and teams," Coach Riggio said.