A Successful Powder Puff 2019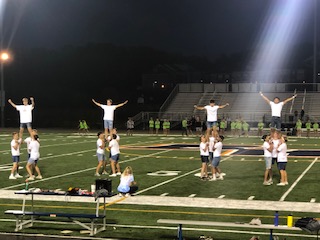 As the stands began to fill in and the players got riled up, the game began. The stands were full of excited and supportive parents and peers. Junior class sponsors, Meredith Schimmel and Tracy Matthews, and senior class sponsors, Amber Poniatowski and Meredith Mjoness, hyped-up their teams on  the field before the first play with energetic chants.  
Within the first four minutes, the junior team scored the first touchdown. With every touchdown, our Briar Woods puffs did a celebratory six push-ups, as spectators counted along. By half-time the score was tied 6-6, and the teams were exhilarated. The Powder Puffs then performed a half-time show to Misheard's Tricky and Soulja Boy's Crank That. 
Once the game started back up, and the previously benched half subbed in,  the crowd was back to their spiritual cheers. The seniors and juniors played with strength and determination for the final half of the game. Both teams earned six more points, tying the game at 12-12. However, in the last two minutes of the game, the juniors scored the final points, coming to a winning total of 18-12.
Throughout the game, the announcer made lively conversation with the audience and informed spectators of important plays. She also announced the 50/50 raffle, who's grand prize was $89. Junior Coach Burcak, Senior Coach Eddinger, and Puffs Coach Peyton all worked extremely hard to create enthusiastic and fierce teams. Team captains supported their teams from the sidelines.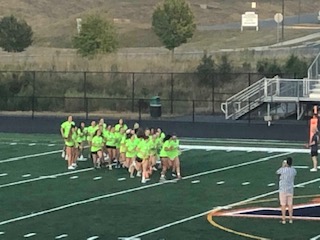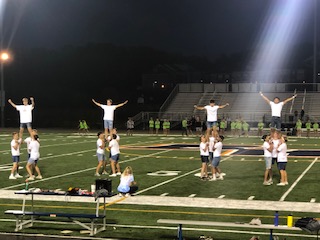 As the game came to an end,                                                         
the juniors enjoyed their victory with a celebratory huddle and triumphant whoops.
The two teams ended with a show of sportsmanship and respect as they lined up to congratulate each other in victory and efforts.