What Makes a 2000s Show Special?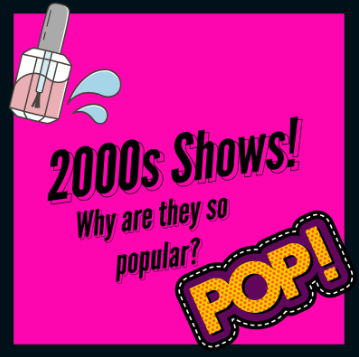 As the years go by, TV shows have seen different styles and aesthetics, but the 2000s era specifically had its own memorable touch. From low waisted jeans to blinding pink glitter, this era left a mark on television history with its remarkable fashion and unique visual appearance. Many television channels also gained immense popularity during this time, leading the show to become iconic and nostalgic. According to Refinery29, "The 2000s were peak Disney Channel." Refinery29 also says that "13 shows, Disney Channel Original Movies, and miscellaneous moments that made the 2000s an unforgettable era of the Disney channel." Within the shows Disney created, they were able to introduce many actors that soon became very popular,  like Selena Gomez, Nick Jonas, Zac Efron, Demi Lovato, Hilary Duff, and Miley Cyrus. 
        In a poll with students from Briar Woods, 35% of students said that a Disney Channel show was their favorite 2000s show, and of that percentage of students, 29% said that Wizards of Waverly Place, a show by Disney, was their favorite."In school I constantly talked about Lizzie McGuire and Wizards of Waverly Place. I think these shows were so fun to watch because they were easy going and relaxing to watch after school," said Tanvi Simhadri, a sophomore at UMD. 
        In order to combat Disney, Nickelodeon produced many shows as well. Some of these shows were Spongebob Squarepants, The Fairly Oddparents, Rugrats, Zoey 101, iCarly, and Avatar the Last Airbender. There were a few shows that started in the 1990s, but eventually gained attention in the 2000s.
        This TV channel clearly focused on cartoons with bright colors and unique features, rather than live action shows. The channels were  TeenNick, Nick at Nite, Nick jr, and Nicktoons. Although the channel's golden age was from '98-'99, some of the most popular cartoon and kid shows we know of today were made in the 2000s.
        In a poll with students from Briar Woods High school, 27% of the students said that a Nickelodeon show was their favorite, and of that percentage of students, 46% said that iCarly was their favorite 2000s show.
        "I like these shows because they bring me back to my childhood, which brings me happiness, and the corny jokes always make me laugh!" said Sadhana Sudhakar, freshman at BWHS.
        "There was something special about 2000s cartoons. Maybe it's the Nostalgia talking, but from the animation styles to their often twisted storylines, cartoons of this era just hit differently" said Teen Vogue. Cartoons from this era noticeably had bright colors, unique character styles, as well as a one of a kind plot.  
        The most popular 2000s cartoons were Avatar the Last Airbender, Teen Titans, Kim Possible, The Fairly Oddparents, and Cyber Chase. Many of these tv shows got so popular that they still air today. In fact, some shows even have their own continuation shows, or a show that focuses on one character of the original show. 
        In the poll with students from BWHS, 29% of them said that they liked a cartoon show as their favorite 2000s show. Most of the cartoon shows they mentioned are still aired today on most tv channels.
        "I love powerpuff girls because I used to always watch it as a toddler with my sister and it was really fun and cute. It also had girl main characters, which I thought was empowering" said Reem Fallaha, Freshman at BWHS.
        On a rainy and gloomy day, watching a 2000s show all bundled up is what many would call a perfect day. These shows bring so much nostalgia and joy into many hearts just by opening a device and clicking play. The bright colors, unique concepts, and diverse characters is what makes these shows so special. Even though there are many good modern tv shows being created, the experience of a 2000s show will never change.