The End of the 2022 Varsity Swim Season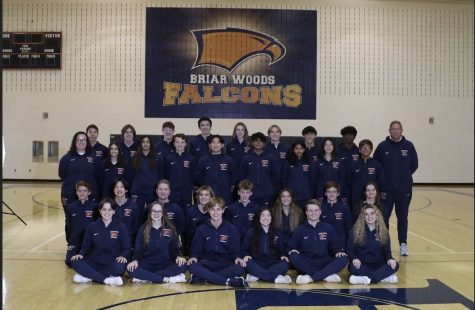 As swim season comes to an end, the Briar Woods swim team looks back on the ups and downs they've had this season. The season coming to an end has sparked some thoughts in hindsight and goals for the future of new seasons to come!
This swim season brought huge accomplishments to a multitude of Briar swimmers. For freshman swimmer, Audrey Hayward, her first season ever at Briar Woods was nothing short of incredible accomplishments.
When asked about what went well for her this past swim season, "Probably winning districts, getting second at regionals, and anchoring my team to victory in the relay" said Audrey Hayward, a freshman varsity swimmer.
Though swimming is mainly an independent competition, swimmers did not feel the lack of team support. Not only did swimmers cheer on their teammates, but also felt immense support from their teammates in return. Competing individually did not create a barrier with the Briar Woods varsity swim team.
"Being on a team with other kids my age felt nice because we could compete with other people representing Briar Woods," stated Surya Saravanan, sophomore varsity swimmer. "My teammates played into my performances at meets as well by encouraging me into making states for the first time in my high school swimming career.
Likewise, not only did this swim season give swimmers an outlet to break personal records and drop their times, it also gave them an opportunity to meet new people. Team spirit didn't just stay within Briar Woods swimmers, but also spread to the new people swimmers met from other schools.
"I enjoyed seeing my friends from other schools at all of the meets. I also met new people too," explained Hayward. "I just really liked meeting new people at the swim meets."
Moreover, friendliness wasn't only seen by Briar swimmers. Swimmers from other schools created friendships as the season progressed.
"I knew Caroline Kilty a little before high school swim started, but we became closer this year," said Nina Wysocki, freshman varsity swimmer, at Independence High School. "Something funny was that I ended up buying the same theragun as her, and she ended up buying the same goggles as me."
Friendships among swimmers did not affect the competitiveness at competitions. Swimmers were very competitive with each other at all of the swimming events and meets.
"The most challenging thing about going against Briar was probably their relays, they have a lot of strong swimmers and [are] the biggest competition we have had so far this year," said Nina Wysocki.
After the regular meeting season ended, top performing swimmers were able to go to district meets and for some, even regionals. From Briar, both Audrey Hayward and Surya Saravanan made it into the states.
"Districts was an amazing meet and we got to see a lot of swimmers go all out for their schools and it was where I made the state cut," said Saravanan.