Review: The Relatability of SZA's Sophomore Album, SOS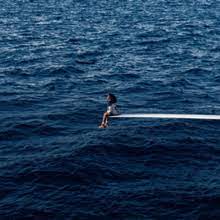 On Dec. 9, 2022, SZA dropped her long-awaited second studio album, SOS, under Top Dawg Entertainment and RCA Records. She hasn't released an album since June 9, 2017, so her dedicated fans have been gearing up for this day to come for years. SZA worked with a diverse group of record producers and songwriters such as Babyface, Jeff Bhasker, Benny Blanco, Rodney Jerkins, DJ Dahi, Gabriel Hardeman, Ant Clemons and Lizzo. The album also features guest appearances from Phoebe Bridgers, Travis Scott, Ol' Dirty Bastard and Don Toliver. The album is primarily R&B with influences from pop and hip hop and samples sound references from soul, gospel, jazz and melodic rap. It's meant to be a follow-up to her previous album, Ctrl, which was already well received by the public, so there were high-expectations for her sophomore album.
SOS consists of 23 tracks filled with lyrics depicting herself stripping away from toxic love and burning bridges. Her single "Kill Bill" is a catchy radio tune, while still remaining relatable. The lyrics "I might kill my ex, I still love him though" resonate with listeners of all ages when it comes to experiencing their first heartbreak. 
Every song is diverse and there's at least one song someone can relate to. Two Briar Woods students talk about what songs resonate to them the most. Senior Nithya Venkat says that "[she] really likes [the song] 'Special,' because [she] really relates to the meaning of the song." On the other hand, Junior Heather Crawford says "[she] really likes the song 'Notice Me,' because it's pretty good and it's just a really relatable song." Both songs have a smooth melody and catchy beat, so it's recommended that you check both out.
SOS has been No. 1 on the Billboard Charts for 5 consecutive weeks. Her songs are being played everywhere from TikTok to the grocery store, so new fans all around the world are discovering her music. Milahny Siddiqui, a Briar Woods freshman, says "[she] started listening to her when she first came out with Ctrl and [she] listened to [SZA] through [her] mom, because she was already a fan of hers." When asked what song is her favorite and she relates to the most, "Probably 'Blind,' because [the song] talks about how kind of ignorant [she is] to certain things and stuff that she goes through" she said. People of all demographics seem to relate to SZA when it comes to being ignorant or blind to certain things.
In an article by Rolling Stone magazine, SZA talks about the main themes behind SOS. "I think this album was partially inspired by love lost, but mostly inspired by my departure from attempting to be a nice girl. I've tried to be a nice girl for so long and it's just not who I am, inherently. And I think I've done nice things and I am a kind person, but I'm not a nice girl and that's okay. I think coming to terms with that really expanding upon that and exploring that is kind of like this new chapter in my life."
Overall, each track on the album is a hit after hit, so there isn't a song you could go wrong with. However, Siddiqui recommends "her most popular song 'Love Galore.'" Whatever song you choose to start with, you won't be disappointed. If anything, it'll be hard to put your headphones away once you get a taste of SOS by SZA.