Loudoun In Need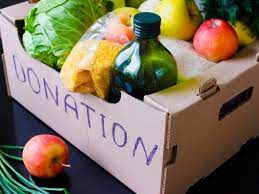 While sitting in the cafeteria enjoying your lunch, you've probably noticed the brown boxes lining the cafeteria filled with leftover food items. So what are these boxes? They are an initiative created by the Loudoun In Need Club (LIN) to reduce food waste!
This is the first year of the Loudoun In Need club here at Briar Woods. The club was started by senior Sneha Gatuku. Sneha has wanted to start a club, and she loves volunteer-based clubs, so Loudoun In Need seemed like the perfect club to create. She's had the idea for the club since last year and knew she wanted to start a food waste reduction project. 
While the process of starting a club wasn't particularly difficult, finding a sponsor was. Most sponsors at this time were taken, and it was hard to find one. Luckily Mrs. Vaillancourt was also sponsoring other clubs at the time but was more than happy to be a sponsor for Loudoun In Need.
The goal of the LIN club was to help Loudoun County, mainly environmentally but also by helping small organizations, spreading awareness, doing fundraisers, and just helping in a smaller aspect. Loudoun in Need has done many projects this year including the textbook drive, fundraising for Loudoun Abused Women's Shelter (LAWS), and the food waste collection boxes.
At the beginning of the year, the club ran into some problems regarding the food waste collection box. Maintaining a system for the boxes was a little difficult because the officers had to put the boxes out every morning, and the janitorial staff were responsible for putting the boxes away in the evenings, so scheduling was a bit hectic. As time went on, the club worked to solve those problems and made changes. At the beginning of the year, the club would sanitize these items every day; this was a way that the club members could earn volunteer hours. But they realized it was more efficient to sanitize those items once a week on Fridays before they donated them to daycares or homeless shelters. Fundraising — selling keychains and chocolates — has been a great way to raise money for LAWS. Next year, they aim to start a textbook exchange program for students who can't afford books.
Club President, Sneha Gatuku said, "I think [the club] could honestly do anything as long as the school is up for it and has permission."
If you are interested in helping Loudoun County improve or want extra community service hours, make sure to join next year. To keep up with dates and important events, follow the club's Instagram page @loudouninneed