52nd Street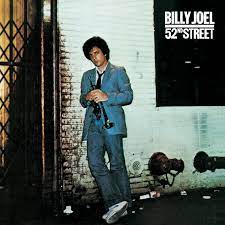 Billy Joel is an American musician, singer, songwriter, and composer. He was very popular in the 1970s-80s, but to this day his songs are still greatly admired. Joel's real name is William Martin Joel, and he is commonly nicknamed The Piano Man. He was a part of The Hassles and Attila, two short-lived bands. 
Billy Joel has recorded 42 albums. One is titled 52nd street, which is his sixth studio album. It was released on October 11, 1978. This album has nine songs, most of which talk about life situations, such as Rosalinda's Eyes and Stiletto. I feel his songs give off good vibes; like the song Piano Man, they tell stories we can relate to. Billy Joel has his own way and theme, and that's what mostly brought him success. 
52nd Street album won a Grammy for best male pop vocal performance in 1980. My favorite song on this album is Honesty (Live). These are the lyrics that stood out to me the most: "Honesty is such a lonely word, everyone is so untrue, honesty is such a lovely word" I really enjoyed listening to the album. The lyrics are easy to understand and make listeners feel as if the words are a part of their life. Joel creates beautiful, pure music.