All's Fair in Love and Country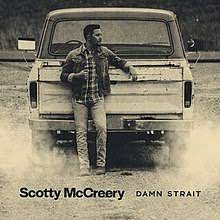 Many songwriters write odes to their artistic inspirations, but not many write songs cursing their names. That's just what Scotty McCreery did though, with his song, "Damn Strait." A clever illustration of love, loss, and memory, "Damn Strait" has climbed to 23 on US Country Airplay as the second single on Same Truck.
The core gimmick of the song lies in the title, which has a clever double meaning. "Damn straight" is an expression that typically indicates an enthusiastic agreement. In this case, however, it is also an allusion to country legend George Strait. Throughout the song, McCreery references many of Strait's most popular songs in order to reflect on a recently ended relationship. His former flame had also loved Strait's music, and they had many memories attached to it. Now McCreery finds it too painful to listen to any of Strait's music, despite his love for it. 
I found "Damn Strait" to be clever, relatable, and compelling. Scotty McCreery strikes a perfect balance between expressing his admiration of Strait and his love for his ex-girlfriend. He seamlessly laces the song with references to Strait's work. Any devoted country lover would be excited to pick up on the Easter eggs, but any casual listener would still be able to enjoy and understand it.