A Cry for Help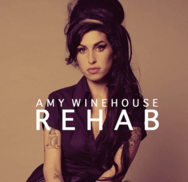 Singer and songwriter Amy Winehouse bought her first guitar at age 14, writing her own songs and performing at bars in North London. Little did Winehouse know, she would go on to win 24 music awards. Unfortunately, drug and alcohol abuse killed Winehouse at just 27-years-old. 
Looking back at the lyrics from some of her songs, fans express their regret for not recognizing Amy's cries for help. For context, in "Rehab", one of her most popular songs from the album Back to Black, Winehouse sings, "They tried to make me go to rehab, but I said no, no, no… I ain't got the time and if my daddy thinks I'm fine. Just try to make me go to rehab, but I won't go, go, go…" To explain, the song is about a depressed person refusing to go to rehab, providing excuses, including their dad's opinion and a lack of time. Fans speculate Winehouse's struggle with depression, alcohol abuse, and drugs resulted from her money-oriented parents pushing her music career too much. Overworking impressionable members of the music industry continue to be a common theme to this day. 
Despite the message of the hit song, fans sang and danced to the lively soul rhythms and blues beat with smiles on their faces. In July of 2011, she sang on a European Tour, where fans witnessed her drunken stage performances. The crowds of fans flooding Kalemegdan Park in Belgrade, Serbia reacted by booing her off of the stage. A few days after that performance, Winehouse died from alcohol poisoning. 
Although Amy Winehouse's story remains a tragedy, touching the hearts of millions, her death serves as a learning lesson for fans to read between the lyrics, recognize the signs, and demonstrate empathy.