Jessie's Girl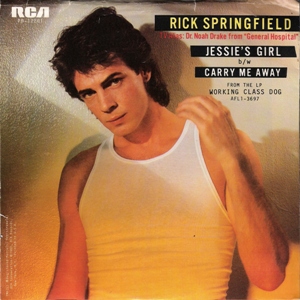 Many teenagers can relate to the experience of caring for someone who is already in a relationship, but not many can write a number one song about it. 
In a classic 1980's power pop song, Rick Springfield's Jessie's Girl encapsulates the feelings of unrequited love. The catchy guitar riff and lyrics, which have fans getting up and moving their feet to the rhythm, depict a young man longing for a woman who is dating his friend.
 Just because the song relates mostly to a young 1980s audience, that didn't stop grandparents from shaking their hips to the beat of the song which spent thirty-two weeks on the Billboard charts and occupied the number one spot for 19 weeks. Billboard ranked Jessie's Girl as the fifth best song for 1981.
The inspiration behind the hit started in Pasadena, California. Rick Springfield was taking a glass staining class when he met someone named Gary and his girlfriend. Springfield was originally going to use the name "Gary" for the song, but it didn't fit smoothly into the lyrics. He also considered "Randy," but while writing the lines, he settled on "Jessie." Springfield recalls he doesn't even remember the girl's name. He told Oprah that "[he] was never really introduced to her. It was always just, like, panting from afar." Springfield added "[he] was completely enamored with the girl, but she just wasn't interested. [He] had a lot of angst building up, so [he] went home and wrote a song about it.
About four months later, [he] stopped going to the class, and they lost contact." He told Oprah "the whole thing [was] absolutely what [he] was feeling. [His friend] was getting it, and [he] wasn't, and it was really tearing [him] up." Oprah's people actually tried to find the girl. They found Gary, but sadly discovered that he passed away two years earlier, and the people who were cleaning out his house had thrown all his papers out a year after that. They missed finding the girl by a year.
Springfield claims although the song sounds simple, it was difficult to write. He says "the riff came first. It took about two months working on the guitar and piano." The distinct guitar solo during the bridge differentiated the song from other power pop songs during the 80s. 
Springfield says that "the producer, Keith Olsen, convinced [him] to shorten a long guitar solo [he'd] played on the demo, which was right out of the seventies." Springfield describes the song as "bubbly and vivacious, but it's dark. It's also covetous, which a lot of [his] music is." Springfield was originally a soap opera actor on show called General Hospital, but after Jessie's Girl, he became a power pop superstar
Overall, the song is catchy and allows audiences to daydream about being in love during the 80's. The tune is sweet and innocent compared to a song like Stacy's Mom by Fountains of Wayne, a song that actually took inspiration from Springfield. Although Jessie's Girl may seem innocent, it makes audiences feel they're being let into someone's mind and learning a secret that they're not supposed to know. 
The song can be found on any streaming sites including Spotify and Apple Music, or, for the purists out there, listen to the song on a cassette while  riding a bike to the soda pop shop.