The Disappearing Twinkie Thief (btw – This is fake news)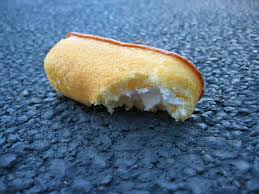 There is heated controversy surrounding the debate of whether or not ghosts are real. Like many, I refused to entertain these ghostly claims with the lack of evidence to back them up. After hearing a ghost story from the terrified Briar Woods student, Penelope Clevens –  who claimed she experienced paranormal activity – you too will believe in ghosts. 
Penelope, a freshman attending Briar Woods High School, unwillingly shared her ghost story with me when she was unraveling the details to her friend Sandra in front of me in first block Calculus. She claims to have seen "lights flickering" and heard "echoing footsteps" when she tried to buy food from the vending machines located just outside the cafeteria. Because she is new to the school, she did not know that the vending machines are closed until 4:00 pm. From what could be heard of Penelope's conversation, she had missed breakfast and attempted to buy her favorite snack: Brown Sugar Cinnamon Pop Tarts. Clevens knew something was wrong when the vending machine screen read 'Beware of the Twinkie or face the consequences.' She wondered whether the message was a threat or a "warning for Type 2 diabetes."
 From speaking with multiple custodians both current and retired, a new piece of evidence came to light regarding the alleged ghost Clevens encountered. Grant Walberg, a former Briar Woods custodian, described the strange disappearance of one of the students 11 years ago. The student Zachary Cooler was known for his love of Twinkies. According to Walberg's fading memory, Zach was trying to buy Twinkies before 4:00 pm, and when the machine would not accept money, he started to reach into the vending machine to grab the snack. The custodian only turned his head for a couple seconds, but when he looked back, the student was nowhere to be seen. The current custodians explained how that had been the last time anyone had seen Zachary Cooler, but legend has it he still haunts the vending machine and anyone who tries to buy unhealthy snacks.