Free is not for Me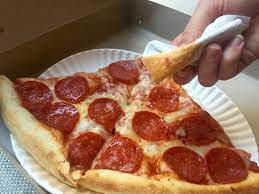 It's 11:00. Students are piling into the cafeteria with rumbling tummies. When they reach for their free lunch, they eyeball a slice of pizza. At first, it seems like the glistening moisture on top could be juice from the freshly made tomato sauce, but upon closer examination, it's clear nothing about this pizza is freshly made. It's grease or oil… or grease and oil. Students at Briar Woods High School are often seen taking napkins and pressing them firmly onto the pizza to absorb the grease. For many, it's just one napkin or two, but it's not uncommon to see three or four napkins per slice.
Many students have been complaining about the school food and how its quality has declined since it became free. The pizza is greasy, the chicken in the chicken sandwich doesn't look or taste like chicken, and water is no longer available. Instead, there are two choices to slake the thirst: vegetable juice, very sweet with a label that says "0g sugar," and chocolate milk that students pour into the garbage cans to see slime tumble out instead of liquid.
Some food items in the cafeteria are good, like the popcorn chicken and the chicken tenders, but most of the food just looks unappealing and like it was bought in The Dollar Store. "They changed a lot of recipes, and it's noticeable," an anonymous junior said when talking about the food quality since it became gratis. Another student, a sophomore, said, "It should stay free, because a lot of people can't afford it, but that doesn't mean that the quality should change. I don't like the bagged sliders; those are really bad, and the chicken sandwich is highly disgusting."
Yashpal Kaur, who has been serving food at the cafeteria since 2015 said they try "to buy fresh food every week, but mostly keep the food in the freezer for about a month or two." Ideally the food should be kept in the freezer for under 10 days maximum. Two months is almost a whole season, and let's face it, the food is kept in manufacturers' freezers for months before delivery.
Since the pandemic broke out, a lot of people have been struggling with finances, but before that if someone couldn't afford to buy school food, they could have always applied for free lunch.