The Haitian Crisis at the Border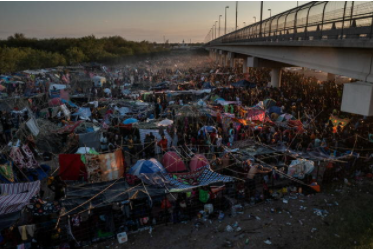 After two devastating earthquakes and a presidential assassination,15,000 Haitian refugees find themselves with one remaining obstacle between them and the US, a bridge into the small border city of Del Rio, Texas. 
The Republic of Haiti has been a nation struck by misfortune, with a corrupt government and a location right on a fault line. In 2010, the world's deadliest earthquake in almost 500 years struck Haiti's capital and most populated city, Port-au-Prince. The earthquake killed more than 100,000, including several prominent politicians as well as an Archbishop, and destroyed the Presidential Palace. In the chaos, the abysmal state of their nation caused many Haitians to flee to Latin America, hoping to find a better life there. This is where those refugees stayed, until this year, when even more dramatic events caused Haitians to try to flee to the US.
In July of this year, Haitian President Jovenel Moïse was assassinated by a group of armed men who broke into his home. The instability that occured following Moïse's death was exacerbated by an earthquake stronger than the one in 2010. With a barely functioning government and a massive natural disaster, Haiti's COVID-19 response was almost nonexistent, only creating worse conditions for its citizens. This trinity of catastrophes caused even more refugees to flee Haiti. In response to these disasters in the small island nation, the Biden administration announced temporary asylum for all Haitians that were in the US before July 29th in order to not force them to return to their devastated homeland. However, this policy, according to Department of Homeland Security Secretary Alejandro Mayorkas, has misled many Haitian refugees into believing they will be allowed asylum in the US as soon as they enter. Whether or not this is true, with the COVID-19 pandemic crippling the economies of Latin American nations, thousands of Haitian refugees have gone north to the Mexican-American border, trying to cross a bridge into Texas. 
According to NBC News, the Biden administration has started sorting through refugees, primarily deporting adult, single Haitians, while allowing some families to wait for their asylum trials. Some Briar Woods students were asked about what should be done in this Haitian refugee crisis. "It depends on our resources, right?" said an anonymous junior. "If we have enough resources to hold a quota of people, while still making room for those who [are] legally able to [get in, then fine]. We still have refugee programs. Then, I mean, it's a law, so… if  [deportation] is a consequence of that law, that's a consequence of that law… It's a lot harder than it seems to get into this country [legally]…especially for those who need it as urgently as possible; we need to have a special set of rules." Another junior seemed in favor of slightly stricter laws, saying, "…Obviously America is made up of immigrants. We already have a law that states that only a certain amount of people from each country can come every year, and so this year with Biden, [the law] just got kind of thrown out the window. It's such a mess there. What I think he should do is be a lot stricter on who can come in. Like, if you come here legally and you go through the processes, that's how you ensure that you…will have a place to be; you have all these opportunities and resources. But if everyone just comes in, then what are you going to do? It's just going to be a mess, and it's not going to help anyone…It's not fair for the people who are waiting to come into America – who are trying to do it legally – for people who just aren't [immigrating legally]." It appears that both Briar Woods students agree that the US shouldn't allow a completely open border, but they seem to disagree on exactly how tight the US should be with floods of refugees. 
While waiting to be processed, the Haitian refugees erected a massive shantytown entirely under the bridge, in what might have been the only home they would ever have in America. However, according to AP News, border security had completely cleared out the village by Friday. Images of the crisis, ranging from shots of the impromptu community to photos of migrants getting caught trying to cross the border have sparked reactions from both the left and right. Both sides seem to show distaste for the Biden administration's handling of this crisis, with Republican Senator Ted Cruz – angry with Biden's slow process to deport – tweeting that the "The Border Patrol is at overcapacity. It's indefensible, it's inhuman, and it was entirely caused by Biden & Harris." Democratic House Representative Alexandria Ocasio-Cortez, tweeting in response to US Border Patrol agents rounding up Haitian refugees on horseback, expressed that regardless of the President's political party, "our immigration system is designed for cruelty towards and dehumanization of immigrants," and that "Immigration should not be a crime… This is a stain on our country." It appears that President Biden is deporting enough Haitians to anger the left, while still not deporting enough, which angers the right. Whatever happens, the lives of many Haitian refugees are on the precipice of change, for better or for worse, and what Biden does with this crisis may define his immigration policy for the remainder of his presidency, something crucial for the thousands of millions trying to get into the US.