My Walk Through a Virtual World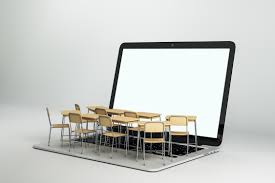 Three hundred and two days. 
It has been three hundred and two days since we sat in classrooms, lounged at our desks and smiling, maskless, with our peers. 
I remember waking up the morning of March 13th, a little earlier than usual, filled with a sense of thrill and excitement. I was skipping school that day! I slipped on my business attire and anxiously waited for go-time. Today I would be standing among hundreds of my peers competing for a spot in FBLA (Future Business Leaders of America) Regionals, and it would be ambitiously glorious. Hopefully.
My heart sank as my phone lit up with an update from my chapter advisor. 
Due to the recent rise in cases of Covid-19, all schools and events are closed/cancelled until further notice.
The heartbreak of what could have been a medal at regionals came coupled with a sense of relief. An extended spring break! Maybe longer. A really, really, really extended spring break perhaps. 
Before I knew it, school was online. The classrooms I had hated, but grew to miss, morphed into a desk by my bedroom window. I was belittled down to mere inches, and although classes were still happening, learning didn't quite feel the same. 
I kept at it, hoping my work would pay off. With journals and planners at hand, I marched headstrong into the world of online learning. Filled with gratitude, I took my open-note AP exams and headed off into summer. 
Yet, there was a sense of loss. My prom dress hung, untouched and diminished, in my closet. The graduation gifts for my senior friends found themselves in mailboxes rather than given with cakes and hugs. 
Coming back to school in the fall felt surreal, although attending class merely entailed getting out of bed and making the 30 second walk to my desk. It should have been over by now. Right? 
I felt my motivation slip away as the days dragged on, each seemingly like the last. There was no requirement for me to have my camera on. There was no requirement to turn my mic on and participate. It was oh so easy to tell my teacher "I'm having network issues." I went from being a highly ambitious student – pushing to be the best – to finding it hard not to pick up my phone and spend the entirety of class mind-numbingly scrolling through TikTok. 
It wasn't that I didn't care about learning or school, or even that my respect for teachers had been lost. It was just easier to feed into the disconnect. My peers and I could barely collaborate like a classroom and in breakout rooms, where we were given a chance to work together, almost everyone was having network issues. 
Students were not the only ones falling to the ease of distance learning. When I would email teachers with questions on assignments after hours, I was often ghosted. It was like coming into class during study hall and my teacher pretending I didn't exist. It was frustrating, and yet, understandable. 
My biggest takeaway from this transition is that empathy is the key to counteracting resentment. For the first time in years, teachers and students are in exactly the same boat. Absolutely no one knows what's going on or when we will return to normalcy.
In the midst of my frustrations, I have found comfort in study groups, best friends, and family. Interconnectedness in a world of disconnect is hard to come by but vital to survival. 
My grievances for learning online are lengthy, but I have managed to transition from grief of what I lost of my senior year to acceptance and understanding that staying home is one requirement I can live by. For now. 
I hope to see my peers at graduation.