Varsity Baseball's Walk Off Win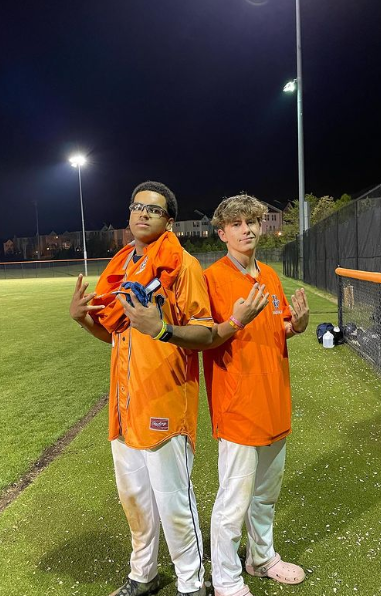 Briar Woods' varsity baseball team, coached by Rob Sikora, came out on top after a ten inning battle against Broad Run.
On a warm Tuesday night, the Falcons faced off against the Spartans [Broad Run] at home. As the game progressed, both teams stayed neck-in-neck. It wasn't until the bottom of the 6th that Briar gained a steady lead over Broad Run, ending the inning 4-1. The top of the 7th served as an opportunity for the opposing team to catch up. Broad Run was able to tie the game, scoring 3 points in three runs. As the sun began to set, the Falcons were unable to score in the bottom of the inning, causing the game to go into overtime with the score being 4-4.
At the start of the 8th inning, Briar was able to hold the Spartans through strong pitching and catches in the outfield. Broad Run reciprocated this energy towards the Falcons, as they were unable to score when they were up to bat. The Spartans approached the plate once again to kickoff the 9th inning but were unsuccessful in scoring. Briar, keeping up the vitality, had various attempts at scoring. However, fierce pitching and field plays from Broad Run prevented any players from touching home base. This nail biter of a game slid its way into the 10th and final inning.
With fans growing tired of hearing the umpire shout "strike!" and "ball!" the Falcons shut out the Spartans one final time at the top of the 10th. With high animation from the dugout and anticipation from the crowd, Briar went up to bat. Junior Clint Burke hit the ball to the fence, securing a spot on second base. Freshman Max Lawson followed with a bunt, which got him out but allowed Burke to land on third. The game came to an exciting end when senior Brayden Fetterman had a direct hit to the outfield. Burke ran to home plate and obtained the walk off win. The 10 inning game came to a celebratory close with the help of teamwork and great execution from each player at bat. Senior Tyler Walters said that the win felt great. "After a 6 game losing streak, to win in a walk off is ideal." In order to improve each and every week, Walters explained how the team treats every "rep in practice as serious as if it were a game." Special shoutout to the JV team for their 11-6 win over Broad Run the same night.
Let's continue to support our baseball teams as they progress through the rest of the season. To check for upcoming games, visit https://www.bwhsports.org/main/teamschedule/id/3798702/seasonid/4645700 for more information.