Teacher Appreciation Week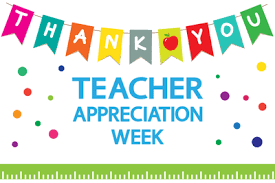 To All Teachers, from Briar and Beyond,
We thank you.
We, the student body, thank you for the hours spent away from home and family, for the time invested in every student, every lesson, every day. Teachers are the lifeblood of education, the lifeblood of our nation, and the undermentioned heroes of our time. It would take a lifetime to pay back the goodwill invested into every student by their teachers, but we may give our thanks in a small way every year. Teacher Appreciation Week, between the second and sixth of May, stands as a minute way to give back to those who give us so much. 
Teacher Appreciation Week began as an ambitious project championed by Mrs. Eleanor Roosevelt. Her calls for a day for educators reached the ears of the eighty-first Congress in 1953. At the time, she held the post of United States Representative to the United Nations Commission on Human Rights, a commission she herself had chaired previously. Despite her credentials and the nobility of her cause, a "Day of Teachers" failed to officialize after the Congress, though the movement for it didn't cease. An official day took until 1980 to formalize and the first Tuesday of March became Teacher Appreciation Day. However, advocates were not satisfied. 
Half a decade later, a National Education Association Assembly ratified an entire week for teachers. The first week of May would serve as the new Teacher Appreciation Week, which is celebrated throughout the country for educators across the spectrum of teaching. It exists for students to give back, a chance to offer kind words or a sweet gift, to put a smile on your teacher's face, thank them for the time they've invested, and wish them a prosperous and efficient year to come. The National Education Association maintains a text line to thank educators across the country. To participate, text CELEBRATE to 48744 and deliver thanks to the teachers that support students every day.
For more information on Teacher Appreciation Week, as well as fun activities to celebrate, visit the National Education Association's website here.