Jackie Robinson Day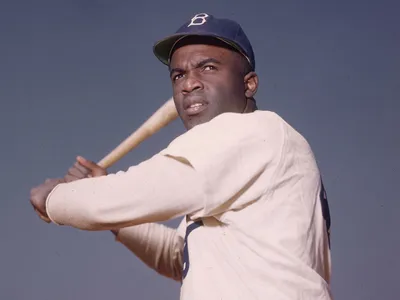 Jackie Robinson is one of the most renowned baseball players in the world. Though he died in the year 1972, almost 50 years ago this year, he is still celebrated like he's still alive today. 
On April 15th, 1947, Jackie Robinson went up to bat, making his MLB debut. Not many people were talking about his performance, but rather, they were focused on his skin. As the first Black person to play in the majors, he broke the color barrier in sports. Robinson's actions have put him not only in the baseball history books, but also in the world history books, and his feats haven't stopped there. His own holiday in baseball is celebrated worldwide. 
Jackie Robinson day is no joke to any baseball fan or player. Since 2004, on April 15th of each season, every player on the field has worn the number 42 to honor Robinson. The celebration kicks off as a pre-game ceremony for Robinson; each team chooses a person from the Jackie Robinson Foundation to throw the first pitch at games. Teams also take their own spin on the celebration. For example, in the 2021 season, the New York Mets handed out free Jackie Robinson jerseys to fans as they entered the ballpark. The Los Angeles Dodgers (formerly known as the Brooklyn Dodgers when Robinson played )  pay tribute by standing at his main entrance in center field before the game. 
Speaking with a hardcore Dodgers fan, he said, "Jackie Robinson Day is one of the best days in baseball. The celebrations and recognition he gets on that day make me feel like he's in the league [MLB] right now. Even though I never saw him play in person, I have so many Jackie Robinson jerseys. I actually went to a game on Jackie Robinson Day, and the vibes there are immaculate; definitely recommend going to one." Another baseball fan added, "Even though he's not widely considered as the G.O.A.T., he is surely the G.O.A.T. in my mind. His grasp on baseball fans and the game itself is legendary. I'm glad they have a day like this on which we can celebrate the people who helped change sports." 
Not everyone may be a Dodgers fan, but one thing everyone can agree on is that Jackie Robinson Day will always be celebrated like it's the last day on earth.