The History of Holi: A Hindu Holiday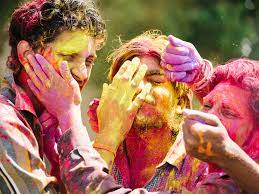 This past weekend you may have seen groups of people smearing bright-colored powders on one another, laughing, and dancing to music. So what is the reason for this celebration? Holi.
Many might recognize Holi as the festival of colors. It is also known as the festival of spring or the festival of love. It honors the triumph of good over evil and marks the beginning of spring and the end of winter.
Holi, a two-day festival, is the second most popular Hindu celebration after Diwali. The first day is known as Holika Dahan, Chhoti Holi. On the evening of the first day, a bonfire is lit, representing the success of good over evil. The second day represents the love of Lord Krishna and Radha Rani, which is celebrated by smearing bright-colored powders on one another. The second day is known as Dhulandi, Rangwali Holi. 
India is vast and diverse; therefore, stories and legends vary from region to region. The most popular legend behind Holi is the story of Hiranyakashyap, Prahlad, and Holika. There was a powerful king named Hiranyakashyap, who believed he was more powerful than all the gods and wanted everyone to worship him. He was angered when he found out that his son, Prahlad, was a devotee of Lord Vishnu. Overtaken with anger, the king wanted to kill his son. Hiranyakashyap tried everything to kill Prahlad but each time Lord Vishnu came to his rescue. Finally giving up, Hiranyakashyap asked his sister, Holika, who was a demon, to kill his son. Holika, unable to be hurt by fire, decided to trap herself and Prahlad in the middle of a bonfire. The gods took away her powers because of her evil intentions, making her prone to the fire. Prahlad continued to pray to Vishnu, who saved Prahlad, while Holika burned in the fire and died.
Each color used when playing Holi, represents something different. Red is the color of love. Green is used to symbolize nature and the start of spring. Blue is used to represent the color of Lord Krishna's face. Yellow represents knowledge, happiness, and peace.
Sophomore Arushi Gadicherla celebrated the holiday by playing Holi with her neighbors and family. "We all met in front of my house and [smeared colored powder on each other, like clothes and face]." When asked what her favorite part was, she replied saying it was "getting to see everybody and spend time with [her] neighbors, especially because it's early March and during winter no one really comes out."
Holi is a chance to have a fresh start and to end all conflicts with others. It is a day to forget and forgive.