Valentine's Day Across Latin America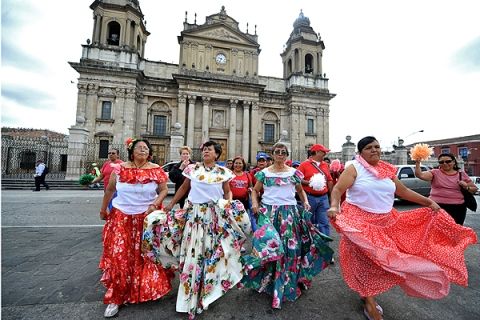 El Día de San Valentín, or Valentine's Day. Valentine's Day is well-known as a day of love and appreciation for those you care about. But what about the rest of the world? Is Valentine's Day only celebrated in the northern hemisphere?
The answer is a definite no. The United States celebrates February 14th as a national holiday, and Latin America is no exception.
Despite common belief, Mexico is, in fact, not the only country that speaks Spanish nor is it the only country Hispanics are from. There are a total of 20 Spanish-speaking countries in the world. Each country, however, has its own diverse culture topped with a distinct Spanish accent as well as unique ways of commemorating holidays, especially Valentine's Day. 
El Salvador, Central America's smallest country, only has the best of the best to offer. Roses, stuffed animals, and even chocolates decorate every restaurant, store, and building. One of the most popular games all Salvadorans play on this special occasion is called Amigo Secreto, meaning secret friend. The rules are similar to the Christmas game Secret Santa. To play, a group of friends draws names out of a hat and whichever name is drawn, the person must prepare them a sweet gift.
While February 14th is indeed a day about celebrating young love, Guatemala does an excellent job of including senior citizens in the festivities. The Old Love Parade — a festival dedicated to celebrating the eternal love of elderly couples  — is arguably the most popular parade of the year. Senior citizens dress up in their most beautiful dresses from their youth and perform choreographed dance routines aboard the parade floats to honor love.
Now for the most popular country in Latin America: Mexico. Valentine's Day, or El Dia de la Amistad y El Amor as it is known in Mexico, has a special saying, "Regale aprecio, no lo compre." The message behind this phrase is to give away your affection rather than buy it. Instead of buying extravagant gifts at the most expensive stores, Mexicans enjoy creating artistic gifts to showcase their love. One of my closest friends, Alejandro Matias Pozales, spent a month in a ceramic workshop to create The Sacred Heart, which is a meaningful religious motif in Mexico. The gift was completely cost-free but made a lasting impression on his girlfriend, Diana Alvarado.
In terms of what Valentine's Day is all about, both Americans and Latinos have quite similar views. A senior believes "[Valentine's Day] is the one day [he] can go all out with all the cheesy, lovey-dovey gifts and show [his] girlfriend how much [he loves] and [appreciates] her." When asked about his thoughts of the senior's opinions, Alejandro laughed and said, "It's exactly the same! I love my girlfriend to death and look forward to spoiling her and seeing what she has prepared for me."
You can never go wrong with the classic chocolates, flowers, and a thoughtful message for your significant other — but if you're looking to liven up your Valentine's Day, consider playing the traditional Salvadoran game Amigo Secreto or getting a little creative with your gifts! Nevertheless, prepare for a day full of surprises.