Honoring Black History: Bessie Coleman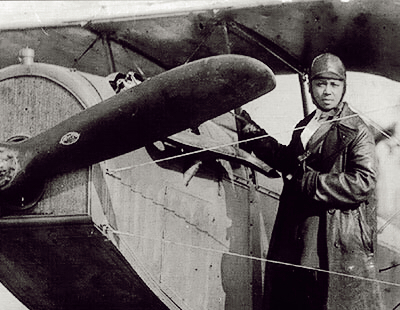 Most people have heard of Martin Luther King Jr, Rosa Parks, W.E.B. Du Bois, and Malcolm X, but there are so many others missing from history textbooks who took important first steps toward equality. For example, Susie King Taylor, the first black nurse during the Civil War, became the first black teacher to newly freed slaves. Macon Bolling Allen, who took the bar exam in 1844, was the country's first black lawyer. It takes courageous men and women to inspire meaningful change, and Bessie Coleman strived to do the same in the field of aviation. 
Bessie Coleman, also known as Queen Bess or Brave Bessie, was born on January 26, 1892. As the daughter of a maid and sharecropper, she grew up in Texas with her 12 siblings. As a child, Coleman was naturally gifted when it came to mathematics. At age 18 she attended the Colored Agricultural and Normal University, now Langston University, in Oklahoma. She could only afford one semester, however, and was forced to drop out and pursue a different path. Before she decided to go to flight school, she spent her time at the Burnham School of Beauty Culture, where she learned skills that helped her become a manicurist at a barbershop. 
Her interest in becoming a pilot stemmed from listening to her brother's World War I stories. She later applied to aviation schools all around the United States. She was rejected from every school in which she applied solely because she was a black woman. Unfazed and unfettered, she applied and was admitted into the Caudron Brothers School of Aviation in France, where women were able to attend flight school. 
On June 15, 1921, Coleman became the first black woman to earn her international pilot's license from the Fédération Aéronautique Internationale. Returning to the United States, she faced discrimination and racism that curbed her aspirations of becoming a commercial pilot. Fortunately, she had been trained in stunt flying and aerial tricks, proving to be a talented stunt pilot. Coleman became known for her dangerous tricks and as a result, was given the name Brave Bessie. Doing treacherous stunts, however, commonly lead to serious injuries — especially in the 1920s, before the introduction of modern pilot technology. Although Coleman survived her first plane crash, she sustained several injuries, including a broken leg and a few broken ribs. After making a full recovery, she returned to aviation and continued to perform all across the country. 
Bessie Coleman was a strong advocate for equality, refusing to speak or fly anywhere discriminating against black people. For example, she had planned to perform at an air show for people in her hometown of Waxahachie, Texas, but when she discovered there were two separate entrances in the stadium, one for black people and another for whites, she refused to fly. Her firm stance resulted in the construction of a single entrance for all.  
On April 30, 1926, at age 34, Coleman took a test flight on her new plane with mechanic William Wills. A problem with the engine resulted in the plane crashing, both were killed. Bessie Coleman was more than just a pilot, she was a visionary trailblazer who died far too young. Black History Month is a time of remembrance — honor Bessie Coleman by telling her story.