The Impact of Trace McSorley at Briar Woods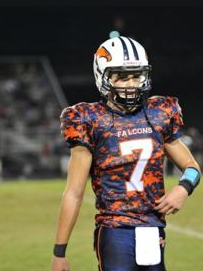 Trace McSorley is one of the most well-known names at Briar Woods, leaving a mark on the Briar Community. 
Trace wasn't just your average high schooler. He started his football career beginning as a freshman on varsity. Going 13-2 and winning the state title in 2010, fans knew this was a special kid from the beginning. He went on to win three more state titles, making it four consecutive state championships when he played. Few high school players are born with natural talent, but what made McSorley's string of victories even better was that Briar hadn't ever won a single chip [championship] before. His name buzzed around Ashburn, calling him one of the greatest quarterbacks to come out of Briar Woods. However, his success didn't stop there. He went on to Penn State, starting as quarterback all four years. After his college graduation in 2018, he was drafted by the Baltimore Ravens and became an Internet sensation. 
Even though Trace has gone pro, he still occasionally attends a Briar football game and his presence has made the fans of the home and away teams lining up to take pictures with him. His influence doesn't stop there. He even has his own song, which is not something many people can say about themselves. Being the subject of one of the most popular songs, one of the more recognizable faces in the NFL, and immortalized in the Briar Hall of Players, Trace McSorley has put Briar on the map for future generations. 
n an interview, one of Trace's neighbors said they "used to have so many parties at [Trace's] house. Constantly having so many people over it was insane. [He] was too young to understand he was one of the best…at Briar Woods. Sometimes [he wishes he] was old enough to understand what was going on." Another neighbor added he never "knew [he] was next to Briar royalty. [He]was too young to understand that Trace was a once and a lifetime player, and [they] won't be seeing another for a long time." 
Though he may be in the NFL living his dream, students never forget where Trace McSorley came from chanting "Just a kid from Briar Woods" every time they see him.