Meet Briar Woods' Hip Hop Club: The B-Crew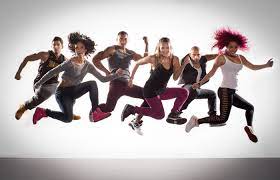 Do you need an outlet to bust out your sickest moves? A place where you can express yourself through dance? Then look no further than the Briar Woods Hip Hop Club, also known as B-Crew, which is sponsored by Mrs. Poniatowski! B-Crew meets Tuesdays after school until 5:30pm in the main foyer or choir room. The club hosts workshops to enhance technique, encourages members to try all of the many diverse styles of hip hop, and has many performances so the team can improve together. 
Hip hop dancing is an art form that was primarily developed in New York City by African Americans and immigrants during the late 1970s and early 1980s. It's believed that its inception went hand in hand with the invention of DJing. One night at a party in the Bronx, Jamaican immigrant Clive Campbell, also known as DJ Kool Herc, demonstrated a new method where two vinyl albums would play simultaneously, while extending the section where there was no music beyond the drum beat. This portion of the song was called the breakbeat, and soon enough, competitions over who could perform the best dance moves during this breakbeat sprung up, leading to the practice's eventual name: break dancing, a crucial part of hip hop. Its legacy is carried on by B-Crew to this very day.
B-Crew is eager for new members and is welcoming anyone to join their ranks, regardless of dancing skill and experience. "I love the atmosphere [in which] we always hype one another up. We all learn and grow as dancers together, and it's so amazing watching the team become better dancers with each passing year," said Club Captain, Aarya Walvekar.
The group has made their presence known by performing at various events, including international nights, school gatherings, the recent TedXYouth conference, and pep rallies in years past, which some of our junior and senior readers may remember. The performances are dynamic and inspiring enough to encourage new recruits to join, including the club's captain, with her saying, "I joined the club back in freshman year after watching the team perform at a pep rally. I wanted to learn more moves and become more comfortable in myself, so I decided to join, and I'm grateful to be captain this year."
B-Crew has a fluid style of motion, in which they incorporate many iconic hip hop moves, such as arm waves, slo-mos, and pop and locks. These kinetic dances create exciting showings that truly show the versatility of the art of hip hop.
At the end of the day, Aarya says the "goal of this club is for everyone who joins to become more comfortable in themselves as dancers [and] improve on their dance techniques by learning from their peers as well as letting go and having fun!" Look out for more upcoming performances by B-Crew, and don't be afraid to join their ranks. They're always ready to accept more dancers!