We Have a Rowing Team?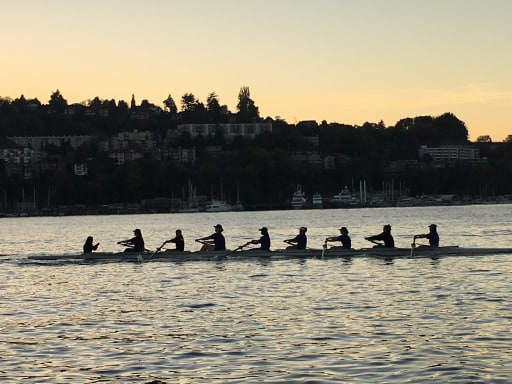 Football, cross country, volleyball: they're all popular and well known fall sports here at Briar Woods. Crew? Not so much. Crew (rowing) in general is a sport that is not known by many people. When Heather Wise – a ninth grader- was asked what she thought of the crew team, she looked surprised and said "[she] did not [know we have a rowing team]. In fact, she followed up by asking a question: "Is [rowing] like canoeing?"
No, it's not like canoeing. Although the water sports may seem similar to the public, they each have their own differences. According to the U.S. Rowing website, "[Rowers] have to propel the boat in backward direction whereas in canoeing the players paddle the boat in the direction in which they are sitting." Attached to this story are two pictures: one is of canoeing and the other, rowing. Rowing can have 1-8 people per boat, depending on the type of race. Rowing boats also have sliding seats to allow for "the rower to use powerful leg muscles to aid in pushing the oars." The oars are locked into a  metal structure on the side of the boat, called a rigger. Canoes can only seat 2-4 people, the seats are stationary, and the canoeist must hold the oar and hope they don't drop it by accident.                    
It's no wonder why there is a general cluelessness around the Briar Woods Crew Team. The sports section of the school website lists rowing as a spring sport. Where is the autumn shout out? Have they forgotten… or did they ever know?
When asked if he thinks students at Briar know about the rowing team, Ben Huppert, a senior captain, said, "They know it exists, but [I don't] really think they know what goes on in the crew team itself… a lot of them don't realize what it takes to row and [we] get pushed under the carpet, if that makes sense."
To add insult to ignorance, the fall season of crew isn't even considered a sport by the school; it's merely seen as a club and relies on $400 admission fees to pay for equipment, travel, and other necessary expenses. Members devote all their effort toward practices and races, but they don't receive acknowledgement from the student body. Where is the love?
For those with oars in hand, coasting along the water, watching herons gliding and diving and flying off into the distance, being unknown is not so bad. But if anyone is reading this and wants to join, there's always room on the river. While it's too late to join for the fall, the team would be happy to welcome newcomers in the springtime.