What You Need to Know About COVID Protocols in Virginia Schools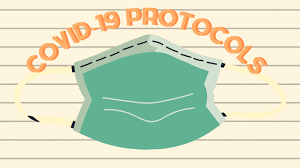 After what seems to be the longest two years on record, thousands of students in Virginia have headed back to in-person school; however, there are many COVID restrictions in place to keep everyone safe.
Schools have mandatory seating charts, which allow for easy contact tracing to stop the spread should anyone contact the virus. If a student who is fully vaccinated comes into contact with someone who has tested positive for COVID, and they do not experience symptoms, they are not required to quarantine. They should, however, get a test three days later. If a student is not vaccinated and has come into contact with someone positive, they must quarantine for 14 days. Depending on the school county, administrators can give students permission to quarantine for only ten days if they have no symptoms. 
Students, vaccinated or not, have to keep a mask on while on school grounds as well as on public transportation, such as the bus. During lunch, some schools have table trackers to show where students sit; they add to a form that states the location of their table. This system helps administrators track and control the spread of COVID. Masks are only allowed to be off when drinking or eating. If masks break during school hours, main offices have extra on hand.
Students are recommended to bring their own water bottles and can refill them at school using automatic, no contact fountains. Water fountains will not be used normally as they can spread germs.
When asked about COVID safety protocols, an anonymous student at Briar Woods said, "I really like how our school is doing the assigned seats because it helps track the spread of the virus." Another Briar Woods student, Arushi Gadichera, was asked how she thinks the school can improve. She said that although she recognizes all the efforts to enforce mask policy, "many students aren't wearing their masks properly[, and] at lunch, we are all cramped in one space without our masks." She went on to recommend regular tests and/or temperature checks prior to entering the school building. 
Although schools are trying their best to keep the students and staff safe, everyone needs to pitch in and help. Whether bringing hand sanitizer to classes or washing hands for the recommended 20 seconds, there are plenty of ways to help keep everyone safe.