Colorado Mass Shooting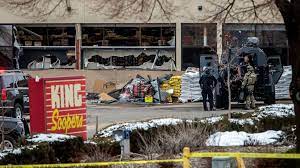 A gunman stole 10 lives at King Soopers in Boulder, Colorado. The 7th mass shooting in a single week occurred on Saturday, March 22nd. Armed with an AR-15 style pistol, suspected gunman 21-year-old Ahmad Al Alwi Alissa rained bullets into the grocery store. Police officer Eric Talley, store managers, humanitarians, the elderly, parents, and friends were among those lost. Although the intent of the gunman remains unknown, Alissa has been charged with ten counts of first-degree murder and one count of attempted murder.
  The shooting has brought gun control conversations to the forefront. Five days prior, the National Rifle Association (NRA) celebrated victory. Boulder city judge ruled against a ban on assault weapons, arguing that such restrictions on guns could only be placed by a state or federal judge. President Biden has called for federal action, urging the Senate to close loopholes in background checks and reinstate bans on high-capacity magazines and assault weapons. Biden stated, "I don't need to wait another minute, let alone an hour, to take common-sense steps that will save lives in the future."
However, Biden's push for greater gun legislation is not favorable with Republican Congress members. During a hearing on March 23rd, just one day after the shooting, Republican Senator Chuck Grassley of Iowa appealed to right-wing citizens, arguing the public mass shootings were not from a lack of gun laws but rather due to "defunding" the police. Other Republican congresspeople have voiced their support with arguments rising for the protection of Second Amendment rights. Democratic Senator Dick Durbin rebutted, stating "We won't solve this crisis with just prosecutions after funerals. We need prevention before shooting." Democratic majority leader Chuck Schumer has promised to pass gun reform laws through the House but without support from at least 10 republicans in the Senate, a filibuster cannot be avoided.
The issue of gun control is not a nascent one in America. With 611 mass shootings occurring in 2020 and 66 so far in 2021 alone, action is necessary. A study conducted by Stanford University in 2019, highlighted the effect of gun control. Federal legislation banning assault weapons from 1994 to 2004 directly correlated to a significant decline in gun violence throughout the country. After the expiration of this federal ban, states have been left to fend for themselves in the courts, with local NRA chapters making it extremely difficult for any new gun reform to be passed in local communities. 
Gun reform is not an issue that will be pushed to the side, especially with the recent uptick in violence across the country. A tweet from former congresswoman and gun violence survivor Gabrielle Giffords stated, "Today it's a tragedy in Boulder, Colorado. This past weekend it was a house party in Philadelphia. And last week it was an armed attack on Asian American women in the Atlanta area."