A Soleful Mission: Former Olympian Mr. Blake Holds School-Wide Shoe Drive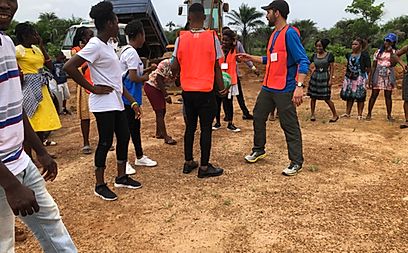 Students looking to get ahead on their spring cleaning this year can start by looking for any new or gently worn shoes that they wish to donate. This year, study hall teacher Dennis Blake has launched a shoe drive targeted towards students' new or gently worn shoes that will soon find a new home with the children in Africa.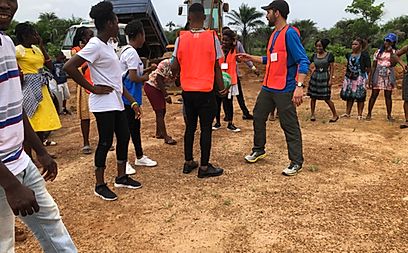 The idea for a shoe drive came to Mr. Blake this past summer, when he was spending time in Africa with his organization, MTSP (Mentoring
Through Sports Professionals). "I realized that [at Briar Woods], I'm at the right place to do that," he recounted. "It was like a lightbulb moment."
The organization conducts yearly camps for children in third world countries such as Jamaica, where Mr. Blake himself grew up. "Because I was a former athlete, I decided to use sports as a backdrop to pull kids in," he said. Through these camps, his team mentors children, working to build up their self esteem and confidence through sports.
This past year, Mr. Blake and his team went to Africa for the first time. "We realized the need there was greater than the need in Jamaica," he said. As such, he plans on returning to Africa again this summer, bringing with him the shoes he collects through his drive.
In addition to shoe donations, monetary donations are equally needed. "One of the challenges that we face is getting funding from outside sources, so we end up using our own money," Mr. Blake stated. The money collected would go towards funding for resources and school supplies in order to achieve the organization's ambitious goals. "Our organization is a certified 501(c)(3), so those who donate receive a tax write up," he explained, citing their website to provide more information in that regard. 
Mr. Blake's own goals are largely driven by his past. For one, MTSP stemmed from both his background as an athlete, as well as his childhood growing up in Jamaica. It was through running that he was given more opportunities, as he went on to become an Olympic Bronze medalist. Afterwards, he used these opportunities to give back to others, and created MTSP as one way to do so. 
His life also influenced many of his novels, one of which is scheduled to soon be published. His works took inspiration from a myriad of experiences, from his trials as an Olympian, to his observations from within the school system, to the life of his son, a future athlete as well. Writing, he says, gave him a new perspective on the world around him, making him more aware of conversations and interactions that may lend a hand in developing his stories.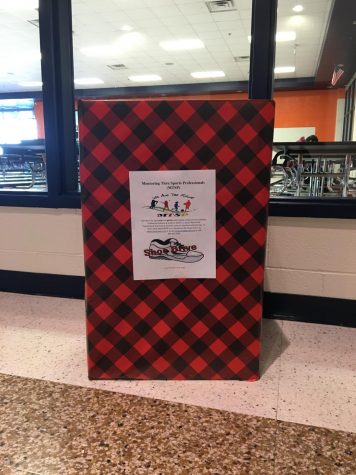 As a study hall teacher, he has an abundance of time on his hands to work on his various projects, from his writing to his MTSP endeavors. He hopes that his shoe donation project, in particular, is successful, as his goal is to collect 100 shoes by the end of the school year. 
The shoes can be placed in a box found outside the cafeteria; however, if students have a few minutes to spare, they can also bring them directly to Mr. Blake and start up a conversation. His passion for both his organization and his novels is undeniable, guaranteed to brighten anyone's day.