Club Spotlight:Model UN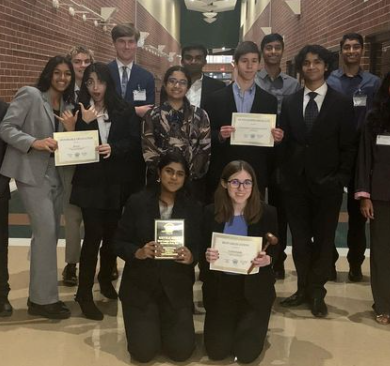 Since its debut in 1927, Model United Nations has expanded beyond Syracuse University, where it was first established, and has become a prominent social studies club at Briar Woods and across the country.
Model United Nations began at Briar Woods in 2005, and has greatly influenced students and teachers in positive ways. The club is a simulation of the United Nations, and it has assemblies and conferences akin to the UN. A Model UN conference is when students go to a school to represent their assigned country, as well as solve problems with other country representatives. 
 "Model United Nations is a program that encourages students to hone skills in diplomacy, negotiation, critical thinking, compromise, public speaking, writing, and research," said club sponsor, Blake Whitacre. 
The club has helped students throughout the county improve their morale. It has also provided students a foundation to further develop essential abilities to increase their rate of success. "Model UN helped me overcome my issues with confidence and helped me become a better public speaker. The club also helped me create relationships with other people in MUN," said Megha Raman, a MUN member at Rock Ridge High School.  
Model UN also offers students a chance to build relationships and long lasting friendships with members of the club. "Students who participate in MUN develop interpersonal relationships while also developing a better understanding regarding argumentative nuance," said Mr. Whitacre.  
The club has allowed its members to gain insight on how to formulate proper speech that is then used in conferences as well as improvisational debates in the weekly meetings. "MUN is an invaluable tool for students to learn from their experiences. Learning how to quickly navigate relationships and communicate with others to reach a goal," said Mr. Whitacre. Students are given the opportunity to demonstrate their understanding of diplomacy and international relations when they generate discussions, create solutions to problems, and construct speeches quickly and effectively.
Students who find themselves fascinated with foreign affairs and news should join Model UN. "A student should join MUN if they enjoy listening as much as they enjoy debating. If they crave problem solving, improvising, and mental chess, then they will love MUN," said Mr. Whitacre. The club has been shaping students to be future leaders in this country since the founding of MUN in 1927.