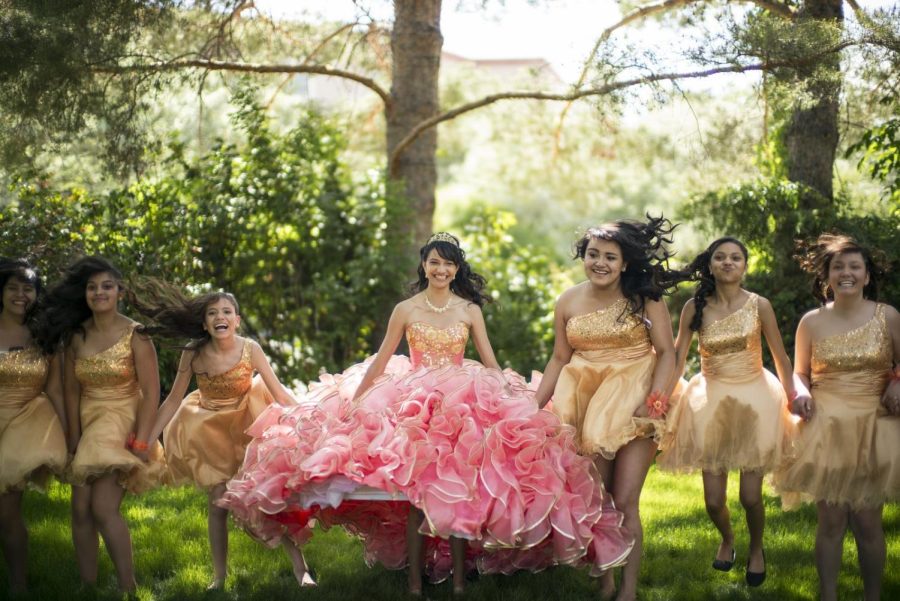 In many Latin cultures, a young woman's 15th birthday is celebrated with dancing, music, and mouthwatering meals. It is a traditional event honoring a girl's coming of age, meaning she is ready to assume family and social duties. Although it is similar to a sweet 16, a quinceañera comes with several meaningful traditions. 
The Aztecs and Mayans were the first to introduce quinceañeras to Mexico around the 5th century. Believed to be in the best interest of the tribe, the Indigenous people maintained rigid gender norms, separating both girls and boys after puberty. Because the typical life expectancy at the period was roughly 30 years, the age of 15 was considered a huge milestone. Traditionally, this separation was celebrated to present the now young woman as a respectable and knowledgeable member of society. However, with the arrival of the Spanish, quinceañeras grew more English-like, embracing Catholic traditions.
The spread of civilizations throughout Latin America, including quinceañeras, was a direct result of Spanish colonialism. The father-daughter dance, the waltz, the change of shoes, and, most importantly, the final doll have all become traditions through time. The father-daughter dance is one of the most important customs in Hispanic culture, marking a daughter's rite-of-passage into adulthood since the conclusion of the dance signifies the end of her dependency on him. The waltz is a debutante dance that is frequently performed by the birthday girl's closest friends. Another rite-of-passage tradition is for the quinceañera's father or closest male relative to change her shoes from flats to heels, since heels are generally considered a symbol of femininity. Finally, the quinceañera presents a special, handcrafted porcelain doll to a child who has not yet turned 15, as a final farewell to her youth.
With all the customs that go into a quinceañera, it can be challenging to organize the party. The celebration is often planned 6 months or a year in advance. Families visit fashion designers to find the perfect dress and then carefully select a theme. The closest friends of the quinceañera are then selected to be in the court of honor consisting of either 14 or 7 girls and boys. Their duties include supporting the quinceañera, keeping everyone in check, and performing a surprise dance routine during the reception. 
Adriana Escobar, a freshman at Independence High School, recently celebrated her quinceañera at the Royal Banquet & Event Center in Springfield, Virginia. "It's like an actual ball," Adriana said, adding, "The best feeling was putting on my ball gown dress and relishing the moment." 
Every decoration, custom, and dance during a quinceañera has a long and profound history. They are a unique occasion that occurs only once in a lifetime. The celebrations are designed to be remembered. These ancient practices have developed over centuries in Hispanic culture. Remember to greet your coming-of-age friends a very happy birthday.