The New World Order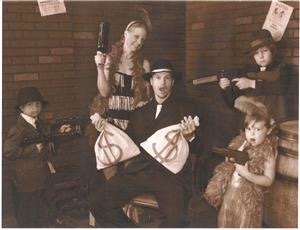 To some, history class is a boring and relentless course that thrusts mounds of work that rarely interests them. To others – the unfortunate minority – history class is something that, at times, fails to push these students to the lengths to which they wish to go; a satisfactory-yet-unsatisfactory class that has the potential to captivate them. It's difficult to create a curriculum that can consistently draw in members of both these cliques, harder still to find the bright minds behind them. These "diamond-in-the-rough" few leave a long-lasting impression on their students; under their instruction, a new admiration for history burgeons in the academic body. Briar Woods' most well-known AP World History teacher, Mr. Silliman, is one of those mentors; his name is one that has been, is, and will continue to be remembered by his students for many years to come. Arguably the most eminent element in his legacy is his veteran New World Order Project, where he engineers a hilarious, devilish, and oftentimes ingenious environment in his classroom.
As with all good ideas, Mr. Silliman's masterpiece drew inspiration from others. According to Mr. Silliman, the idea originated from a former colleague and teacher at Briar Woods, Mrs. Oldknow, who told Mr. Silliman about her own class project where she placed her students into Greek city-states. She also spoke of her own "class economy" and Olympic Games. Afterwards, Mr. Silliman adapted the idea to his own classroom; he added new aspects such as new rewards and group banners. "It was like watching an arms race," described Mr. Silliman. Subsequent years saw the introduction of food, tablecloths, and "motivation" for the teacher's aides. TAs started flocking to Mr. Silliman for the great fun they had with the unit, and all of them ended up with stories of manipulation and deception between the groups. Mr. Silliman detailed a time where one of his groups introduced a charity drive in his class; they ended up raising an eye-widening 11 thousand dollars for a blood cancer support organization. Unfortunately, the rapid growth of the project had to be checked as Mr. Silliman transitioned to AP World History, and the result was a more stabilized group unit. 
Mr. Silliman's creation quickly became a hot topic when it was first implemented, and the transition from "nation" groups to "region" groups created a unit that more wholly focused on the expansive cultures of the regions of the world. The experience, according to Mr. Silliman, allowed for students to foment their own opinions on the cultures they represented; with supervision from Mr. Silliman, the "New World Order" Project made students want to learn more about their regions to emulate them and, ultimately, win. It captured the essence of historical politicking that students learned about in the classroom and drew creativity and genuine effort out of students.
Mr. Silliman's work left a lasting mark on his students, and combined creativity, fun, competition, and education in a way that made AP World History one of the most fun classes in all of high school. We students thank you, Mr. Silliman, for all the work you do to make history all the more interesting.