An Interview
In light of recent events/interactions regarding Doug Mercado, the Falcon Flyer has decided to strikethrough the article detailing his career.
If you're interested in humanitarianism, here are websites and organizations look into:
To check the legitimacy of humanitarian organizations, utilize:
Doug Mercado never entered the field of humanitarianism expecting to work for the United States Agency for International Development (USAID). He says, "I've never really had any life-long goals; things just kinda happen to me. It wasn't something I was seeking out. Most things in my life just kinda fall out of the sky when I'm not expecting them." Mercado had already devoted several years to humanitarian work when the opportunity to join USAID presented itself in 1994. Mercado says, "I was working in Bosnia as a part of an international rescue committee, and we were providing humanitarian assistance to civilians who were caught up in the fighting, in the war. They needed a lot of basic help like food, water, shelter, healthcare, etc. While I was in Bosnia, we were an organization that received funding for our work from USAID – the US government. Every now and then, representatives from USAID would come around to the area where I was working to check on the situation and see the progress of our programs that were funded with their money. I got to know this guy pretty well, his name was Bill. One time Bill came around, and he told me that USAID was looking for somebody to manage their humanitarian programs in Angola. I hadn't thought about USAID; it wasn't something that really crossed my mind, but this individual who was working [there] encouraged me to apply, particularly because they were looking for someone with Portuguese language skills, and I had studied Portuguese in graduate school."
There is no typical day for Mercado, as he says, "It depends on the assignment, and it really depends on the organization that I'm working for, like my most recent assignment in Ethiopia. I was the team leader for USAID's Tigray Task Force. The war broke out in the region of Tigray in Northern Ethiopia back in November between the government and the local political authorities. It's had a huge impact on the civilian population. We estimate between 4-5 million people need some kind of humanitarian assistance because of the impact of the conflict on their lives."
In late 2019, I went to the Bahamas to be with the United Nations as their deputy emergency director for the hurricane response. Hurricane Dorian had hit the Bahamas in early September of 2019, caused major damage, devastation to two islands of the Bahamas which were particularly badly affected and the people there needed some form of humanitarian assistance and. Normally, international organizations – like the United Nations or USAID – step in when the affected countries are either incapable of providing an appropriate response or unwilling to provide an appropriate response. In the case of the Bahamas, the scale of the devastation was so huge that the Bahamas didn't have the resources. They called the international community to come and help them out, that's why the United Nations was there, that's why I was there. I would travel regularly to the islands that were affected by the hurricanes. Abaco was one, and Grand Bahama was the other. I was the head of the operation, so I was based in the capital because a lot of my time in meetings was spent with government officials, so they're all based in Nassau. I would go out, usually every week or two to the affected islands to check on my team and check in with people, talking to them, understanding what their needs are, and [understanding] what we can best do to support them if they were trying to get back on their feet. 
In 2018, I was in [Bogota], Colombia with [an arm of] the United Nations called the World Food Program (WFP). I was the emergency coordinator, and my main job was to coordinate with the government of Colombia. There were all these people flooding out of Venezuela because of economic and political chaos. We were trying to provide them with basic assistance; [there was] almost nothing but the clothes on their backs. I would travel to the border almost every week again, but I had to be in the capital too because I had to coordinate with the government of Colombia and other aid agencies based in Bogota. For a typical day, sometimes I'm in war zones, you're being shot at, or you have to go down roads that might be filled with landmines. You have to be very careful, you know, not to run over a landmine, and obviously, you have to avoid being kidnapped sometimes or subject to attack by armed groups. So yeah, it really can vary. Sometimes you're working in very remote locations where you have to think about logistics and the right kind of vehicles and the right kind of communication systems. Some days are calm and normal, some days are crazy, and sometimes you can go out and see villages burning, people who have been attacked, people who are fleeing, and yeah, you see a bit of everything when you're on these assignments."
The COVID-19 pandemic is a global humanitarian crisis, and one that Mercado has several thoughts on. He commented, "one thing we could take from the response of other countries is to sort of have a national strategy, a national plan. When COVID broke out last year, when it first came to the U.S, I think the federal government didn't do a good job of putting together a plan that would be followed by all 50 states. What you saw instead was – since there's no central plan and direction from the U.S. government – all 50 states started coming up with their own individual plans, which maybe weren't all in sync. I think if you look at some other countries in Europe, they had a national approach, where we've had more of a state-led plan, a state-led approach to the COVID crisis." With the pandemic roaring on more than a year after its start, Mercado's ability to do his job as normal is stifled, and he often finds himself confined to a room staring at his laptop for hours on end. Despite safety efforts, Mercado still came down with COVID-19, but says his "was a mild case, I had a slight fever and a bit of cough and congestion for a few days, like a normal winter flu, so I was lucky it wasn't on the severe end of the spectrum, which is what many people will face when they contract COVID."
Despite the pandemic's limiting effects, Mercado has decades of work under his belt to give us the full picture of his experiences. He sees people in a vast variety of difficult situations and encounters many roadblocks in his job, and says, "In the case of Ethiopia, even though our main job is to respond to a crisis like a war and provide lifesaving assistance and help people retain some level of comfort and dignity when they've lost a lot of things, or maybe everything in their life, the real answer to that situation is peace. The end of the conflict would be the best way to help people because that's what caused their problems. The fact that there is fighting has affected their lives severely. As a humanitarian worker, I don't really have much ability to bring peace to a conflict zone. I don't feel like the people of Tigray were getting what they needed, because they needed peace, and the government was sort of just following a path of war. But the international community, which includes the United Nations but also the government, including our own government, could have pushed harder for peace. I think the US government should've been more involved. This is true in other places. In Bosnia, we were providing assistance to keep people alive and things just weren't working, and people's lives were upended. They lost their homes, they lost their jobs, they did not have access to food, they did not have access to adequate healthcare or adequate clean water. We weren't really solving their basic problem as humanitarians. We were helping people and saving lives and keeping people comfortable, but they really needed the war to end. Sometimes the people in Bosnia would say 'it's great that you're giving us this humanitarian assistance but you are just keeping us alive so we can be killed tomorrow by a bomb or a bullet.' And they were right, what had to happen was that the war had to end but it went on for three and a half years. We give information about the impact of the war on people's lives to try and push them to try and end the war and end the fighting."
Humanitarianism is not an easy field to work in, and when asked of these difficulties, Mercado says, "When you go to some of these crises zones, whether it's a conflict, a natural disaster, or a pandemic, you see the worst in people like those who try to misuse the aid or try to steal it, then you get kind of down on humanity when you see things like that. How can anybody steal food that's meant for starving people? You see a lot of horrible things and you meet people where you wonder Wow, what kind of person are you? Then you also meet some amazing people at the same time. People who are courageous. People who are standing up for their communities. People who are sacrificing for their families and their communities and their country. People who, despite going through a crisis, still remain strong, positive, and doing what they can to help themselves and their neighbors. It's a bit of a mix. I can't say I lose faith in humanity. I'm always in awe of these people caught up in these crises and yet they manage to do amazing things. They don't just sit down and cry. They pick themselves up, dust themselves off and they know they've got to be strong and do amazing things. It's a bit of a mixed picture, but I always try to remain hopeful because I couldn't do this job otherwise if I titled towards the negative. I've got to remain positive. I know there's good people out there and those good people just need some extra support that I can help provide through my work with different organizations."
To enter a career in humanitarian work, Mercado says there's a vast number of people with different skills, experiences, and backgrounds that populate the field. "There's no one type of person. We need a lot of people. Nobody has all the answers, so we need a team of different people, with different backgrounds and skills and experiences. You should learn as many languages as possible and that will increase your chances of being employed. Some languages are more useful than others. French and Arabic are important right now, given where we are with different crises, but that could change a decade from now. Networking is important. I always advise people that it is often not what you know, but who you know. Networking is critical in any job sector that you work in, including humanitarian. You can work with the United Nations. They have multiple organizations within the UN. Then you've also got ThinkTanks. There are lots of ThinkTanks to do research on humanitarian assistance to try and understand it better and to try and help make it more effective and impactful. You've got universities that have programs in humanitarian assistance. There are many ways you can link your career to humanitarian assistance with many organizations."
For those who don't want to devote their entire career to the humanitarian field, there are many other ways to help. Mercado says, "There's all these organizations that need funding. You can make a financial contribution Sometimes though, in a humanitarian crisis, especially conflicts, we need to bring an end to the conflict and that's political. You can write to your congressperson, your senator, the White House. You can study, read up. You can try and join with other people in advocacy groups. You can tweet to bring attention to more people and put more pressure to find a solution to a humanitarian crisis. There are things you can do short of actually going to work directly with an organization that's involved in humanitarian response. There's ways to educate yourself, educate your family members, pressure your political leaders who can help search for a solution, and so forth."
For now, Mercado doesn't have a solid outline for the future, but says "at some point, [he'll] probably take another assignment working with USAID, the United Nations, an NGO, or something going on in the private sector. [He] will see what comes next. [He doesn't do]  a lot of planning in [his] life; things just kind of fall out of the sky, happen out of the blue, whatever you want to call it, and if it's an interesting opportunity, then [he'll] take it."
About the Writers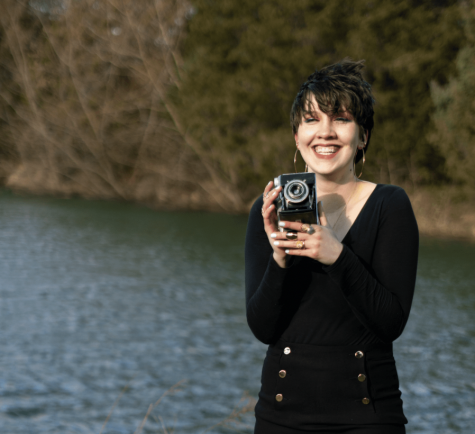 Victoria Weber, Reporter
Victoria Weber is a senior at Briar Woods High School, and is currently in her third year of writing for the Falcon Flyer. In her free time, she enjoys...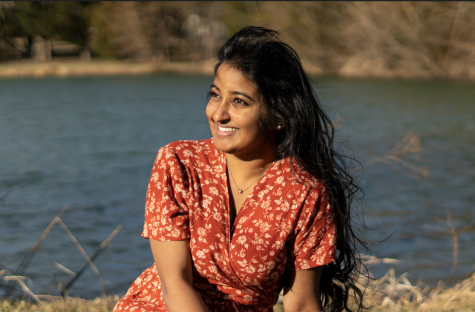 Lalita Durbha, Reporter
Lalita Durbha is a senior at Briar Woods high school and she has been here since sophomore year. She has been studying journalism for three years. In her...